KILIMANJARO CLIMBING MACHAME ROUTE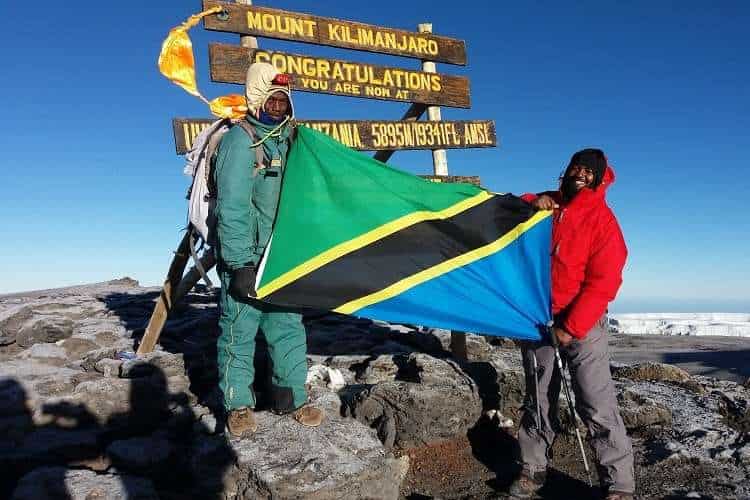 Machame Route Overview

The name Machame refers to an ethnic and linguistic group of people occupying this area historically as its homeland,as well as the specific location.Also the word Mchame stand for a sub tribe of Chagga which removed into the big one found in Kilimanjaro region.The first person to rule Machame was known as Von der Decken,popularly known to the Chagga as Baron who presented Mchame as a confederation of western Chagga states comprising Narumu,Kindi ,Kombo,to as far as western end of Kibongoto,each with their own Chiefs under the King of Machame namely,Lambogo [later Kibosho under powerful Chief Sina] and Kilema.
Why Machame Route

Machame route is the route of choice for many people, its provides awesome views and a variety of habitats. About 50% of all climbers, and most seasoned climbers, choose the Machame route. It's also the cheaper route due to its easy access and shorter itinerary for 6 to 7 days.
Map of machame route
MOUNT Kilimanjaro INFORMATION
Kilimanjaro standing at 5895 meters above the sea level is the highest mountain in Africa and the tallest free-standing mountain in the world. It is very unique since it's rare for it to have snow especially because it's located near the equator at 200 miles.
Month
Low (F)
Average (F)
High (F)
Humidity (%)
Rain Fall (in)
January
64
78
92
58
1.4
February
64
78
92
57
2.0
March
66
78
90
63
4.7
April
67
76
85
73
13.8
May
65
72
79
77
9.3
June
62
70
78
69
1.0
July
60
69
78
69
1.0
August
60
60
80
69
0.7
September
60
71
83
61
0.6
October
62
75
88
57
1.0
November
64
76
86
57
2.5
December
64
77
90
60
2.1
Kilimanjaro is the tallest free standing mountain on earth and the highest mountain in Africa. It stands at 5895 m above sea level making it unique by providing a challenging and interesting climb.
The mountain is one of a kind since it passes through five different climatic zones. The trek is challenging though worth it since it provides an accomplished feeling standing at the roof of Africa.
The following guidelines will help trekkers prepare for the climb for higher summit success rate.

Mental And Physical Preparation

A clear mind is most crucial for the climb. A good mental preparation will provide higher summit success rate. This is through listening to what the guides tell you and having a positive mind since you are on vacation.
However physical preparation is not to be set aside. Prior to the climb, it's important to do physical exercises including taking long walks with a backpack. Also to do lung exercises to help you breathe normally in reduced levels of oxygen.


Acquire The Right Trekking Gears

It's important to pack the right clothes which are to be used through different climates on the mountain.
Consider the following before packing:-

Packing trekking outfit which include a long sleeve shirt, hiking pants, underwear, hiking socks, waterproof and sturdy boots.
Packing personal items inside a plastic bag before putting them in the bag in case of rain.
Thermal socks (more than 3 pairs), gloves (preferably mittens), warm head protection, rain coat, sunglasses, sun protection cream.
Clothes for higher temperatures including shorts, sweaters and T-shirts.
Water bottle including Camelbak and Nalgene style plastic bottle.

Being Aware of AMS

(AMS) Acute Mountain Sickness is a pathological effect on humans caused by high altitude effect resulting in lower oxygen levels which makes it hard to breathe normally.
It has several symptoms like headache, dizziness, fatigue, loss of appetite, nausea and rapid heart rate. However being physically fit doesn't guarantee a hiker not getting AMS since anyone can have it.
The following are to be done so as to avoid AMS:-

Choosing a longer route of above 6 days, Northern circuit, Machame and Lemosho routes are highly recommended.
Drinking lots of water while on the mountain. 5 liters of water is recommended.
Doctor's prescription of Diamox to help acclimatize comfortably.
Taking slow paces in order to avoid exhaustion.
Avoid consuming alcohol, stimulants and caffeine.

Taking It Slow

On the mountain, it is important to walk slowly since it's not a race but rather a holiday. Walking slowly will help hikers acclimatize properly and avoid exhaustion.

Maintenance Of Personal Hygiene

It's important to know that you will not shower while on the mountain.
You need to consider:

Using baby wet wipes for bathing.
Carrying a roll of toilet paper.
Get a toilet tent in the campsites.

Personal Hydration

It's recommended to drink lots of water while on the mountain. This will help giving you strength and reduce fatigue. The amount that is recommended is 5 liters a day.

Summit Preparation

The last day of the climb is very challenging and takes a lot of walking hours hence it's required to do preparation. Take time to allow your body to rest prior to the summit. Also drinking lot of water will provide your body with strength and energy to move on.
Above all, it's required to sleep very early the day before summit so as to avoid exhaustion.
Climbing Kilimanjaro provides you an amazing feeling especially standing at the roof of Africa. To make it more adventurous, one may opt for a wildlife safari in the national parks or a beach vacation in Zanzibar.
ALTITUDE SICKNESS

Sometimes called "mountain sickness," altitude sickness is a group of symptoms that can strike if you walk or climb to a higher elevation, or altitude, too quickly.

WHY IT HAPPENS?

The pressure of the air that surrounds you is called barometric pressure. When you go to higher altitudes, this pressure drops and there is less oxygen available.

If you live in a place that's located at a moderately high altitude, you get used to the air pressure. But if you travel to a place at a higher altitude than you're used to, your body will need time to adjust to the change in pressure.

Any time you go above 8,000 feet, you can be at risk for altitude sickness.

TYPES:

There are three kinds of altitude sickness:

Acute Mountain Sickness (AMS) is the mildest form and it's very common. The symptoms can feel like a hangover – dizziness, headache, muscle aches, nausea.
High Altitude Pulmonary Edema (HAPE) is a buildup of fluid in the lungs that can be very dangerous and even life threatening.
High Altitude Cerebral Edema (HACE) is the most severe form of altitude sickness and happens when there's fluid in the brain. Its life threatening and you need to seek medical attention right away.

SYMTOMS

You might have:

Headache
Dizziness
Nausea
Vomiting
Fatigue and loss of energy
Shortness of breath
Problems with sleep
Loss of appetite

Symptoms usually come on within 12 to 24 hours of reaching a higher elevation and then get better within a day or two as your body adjusts to the change in altitude.

If you have a more moderate case of altitude sickness, your symptoms might feel more intense and not improve with over-the-counter medications. Instead of feeling better as time goes on, you'll start to feel worse. You'll have more shortness of breath and fatigue. You may also have:

Loss of coordination and trouble walking.
A severe headache that doesn't get better with medication
A tightening in your chest.

If you develop a severe form of altitude sickness like HAPE or HACE, you might have:

Confusion
Shortness of breath even at rest
Inability to walk
A cough that produces a white or pink frothy substance
Coma.

WHO GETS TO?

Anyone can develop altitude sickness, no matter how fit, young, or healthy they are -- even Olympic athletes can get it. In fact, being physically active at a high elevation makes you more likely to get it.

Your chance of getting altitude sickness depends on a few other things: how quickly you move to a higher elevation, how high you go up, the altitude where you sleep, and other factors.

Your risk also depends on where you live and the altitude there, your age (young people are more likely to get it), and whether you've had altitude sickness before

Having certain illnesses like diabetes or lung disease doesn't automatically make you more likely to develop altitude sickness. But your genes could play a role in your body's ability to handle higher elevations.

TREATMENT

If you get a headache and at least one other symptom associated with altitude sickness within a day or two of changing your elevation, you might have altitude sickness. If your symptoms are more severe, you'll need medical attention.

Your doctor might listen to your chest with a stethoscope or take an X-ray of your chest or an MRI or CT scan of your brain to look for fluid.

Knowing the symptoms of altitude sickness will help you seek treatment early, while the condition is still mild. The most important treatment for any level of altitude sickness is to go down to a lower elevation as soon as possible while remaining safe.

If you have severe altitude sickness, you'll need to be taken down to a lower elevation right away -- and it must be lower than 4,000 feet. You'll have to see a doctor as soon as possible and you may need to go to the hospital.

If you have HACE, you might need a steroid called dexamethasone. If you have HAPE, you will need supplemental oxygen and may need medications, as well as moving to a lower altitude.

PREVENTION

The best way you can lower your chance of getting altitude sickness is through acclimatization. That means you let your body slowly get used to the changes in air pressure as you travel to higher elevations.

You'll want to climb to higher altitudes gradually. Going slowly helps your lungs get more air through deeper breaths and allows more of your red blood cells to carry oxygen to different parts of your body.

Some of the basic guidelines for acclimatization are:

Start your journey below 10,000 feet. If you have to fly or drive somewhere that's higher up, stop at one destination that's lower for at least a full day before going any higher.
If you walk, hike, or climb over 10,000 feet, only go up an additional 1,000 feet per day. For every 3,000 feet you climb, rest at least a day at that height.
"Climb high and sleep low": If you have to climb over 1,000 feet in a day, make sure you come back down to a lower altitude to sleep.
Drink 3-4 quarts of water every day and make sure about 70% of your calories are coming from carbs.
Don't use tobacco, alcohol, or other medications, such as sleeping pills.
Know how to identify the first signs of altitude sickness. Immediately move to a lower elevation if you start to develop these symptoms.